The World Enquirer
Wall Street Commentary & Beyond
THE WALL STREET INQUIRER stock market newsletter

The Wall Street Inquirer.....on-line newsletter commentary....founded: 1983 by Anthony Campos
Help support this free website, by ordering through this 101inks link so that we can get credit for the sale.  Thank you.
I do not allow much for advertising on this site, but when I place an ad here, it is because I have tried it.  My copy machine needed a toner cartridge which was listed at Staples at $130.  I got it for $42.99 at 101inks.  My son needed a printer cartridge for his HP printer that was $42 at Staples, and he got it for less than $20 at 101inks.....and it was delivered in three days.
Being published as an e-book and hard copy.
Introduction and Table of Contents can be read without obligation.  Sold on Amazon.

by Anthony Campos, PhD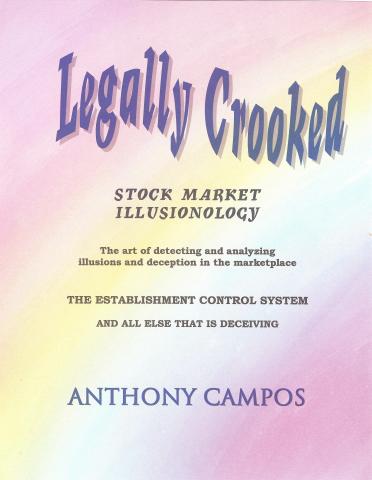 Nothing has changed despite the virus.  The foundation remains.
NVDA should not be bought at these high levels.  Many tech issues are over-valued.  NIO does look good for further advances.  Because Facebook and Twitter are not believers of the U.S. Constitution. I do not advise holding these stocks.  Facebook and Twitter are corrupt and do not believe in freedom of speech.  
Nvidia remains as a best bet for the longer term.  It was stated here that 140 was a great buy and that has been proven correct.  Nvidia is not like many other tech chip stocks.  Accumulation continues to occur by brokerage insiders.  Remember that NVDA involves artificial intelligence and not just chips to run a PC.  Boeing was a good buy at under 100.  Boeing is now a good investment and will climb much higher with a first objective to the 240 level.  Boeing is supported by the government and federal contracts.  BA should now make another move toward the lows.  Fantastic buy at 100 or below. (April 24, 2020)
Despite the virus, the US has the most potential of all other nations.  Back to work is the only way out.   
Virgin Galactica (SPCE) looks good for long-term.  This is a cheap stock when under the 20 level.  It will be supported by brokerage firms such as Morgan-Stanley.  SPCE remains heavily shorted (about 77%).
JULY 18, 2020
At this time, Virgin Galactic is a fantastic opportunity.  It is heavily shorted and good news has arrived.  A short squeeze could send SPCE to the 60 level.  It has already started the advance.